What to pair with Brunello di Montalcino
Brunello di Montalcino is certainly one of the most famous and loved Tuscan wines. Robust, harmonious, and full of character, choosing this wine is choosing one of the pillars of Italian winemaking history. At the table, it is important to know what to pair with Brunello di Montalcino in order to enjoy its unique flavour best. The answer varies depending on whether you are drinking a Rosso di Montalcino, a Brunello di Montalcino or a historic vintage Brunello di Montalcino. If we are discussing, for example, what to pair with a Rosso di Montalcino, the answer may be less elaborate first and second courses of rabbit, chicken, turkey, and lamb or even medium-matured aged cheeses.



What to pair with Brunello di Montalcino?

Perfect pairings with Brunello di Montalcino can be stewed and braised game dishes, with wild boar, guinea fowl, or duck, but also roast veal and pork. When speaking of when to drink a Brunello di Montalcino, it is worth mentioning richly seasoned first courses such as Tortelli alla Mugellana with wild boar ragout or Pappardelle Toscane.
But Brunello di Montalcino, especially if more mature, is also excellent with very mature rich cheeses. Historical vintages, on the other hand, are sensational when paired with dishes with great complexity, aroma, and structure, made with premium ingredients, but also on its own as a meditation wine.
Brunello di Montalcino, especially in younger wines, boasts a very vigorous tannic texture, which, if not contained, could also create astringent sensations. Therefore, optimal food pairings with Brunello di Montalcino must have a moist component, given by various types of sauces that can lubricate the palate and counterbalance the hardness of the wine.
Certainly, choosing local dishes to pair with Brunello di Montalcino is an excellent solution. Exquisite ideas for Brunello di Montalcino pairings can be Pici with Sausage and Mushroom sauce and Duck Breast in Brunello sauce. For the cheese lovers, Brunello di Montalcino paired with barrique-aged Pecorino di Pienza is an unmissable experience.When it comes to natural dishes, the ideal components are various types of sauces.
As for traditional cuisine, wild boar and polenta Scottiglia (stew) or risotto with pigeon sauce are iconic pairings. However, as tastes have evolved, there has been a tendency to propose Brunello di Montalcino even with less structured dishes in order to contrast the wine rather than pair, as is the case of the knife-cut Chianina tartare with San Miniato white truffle.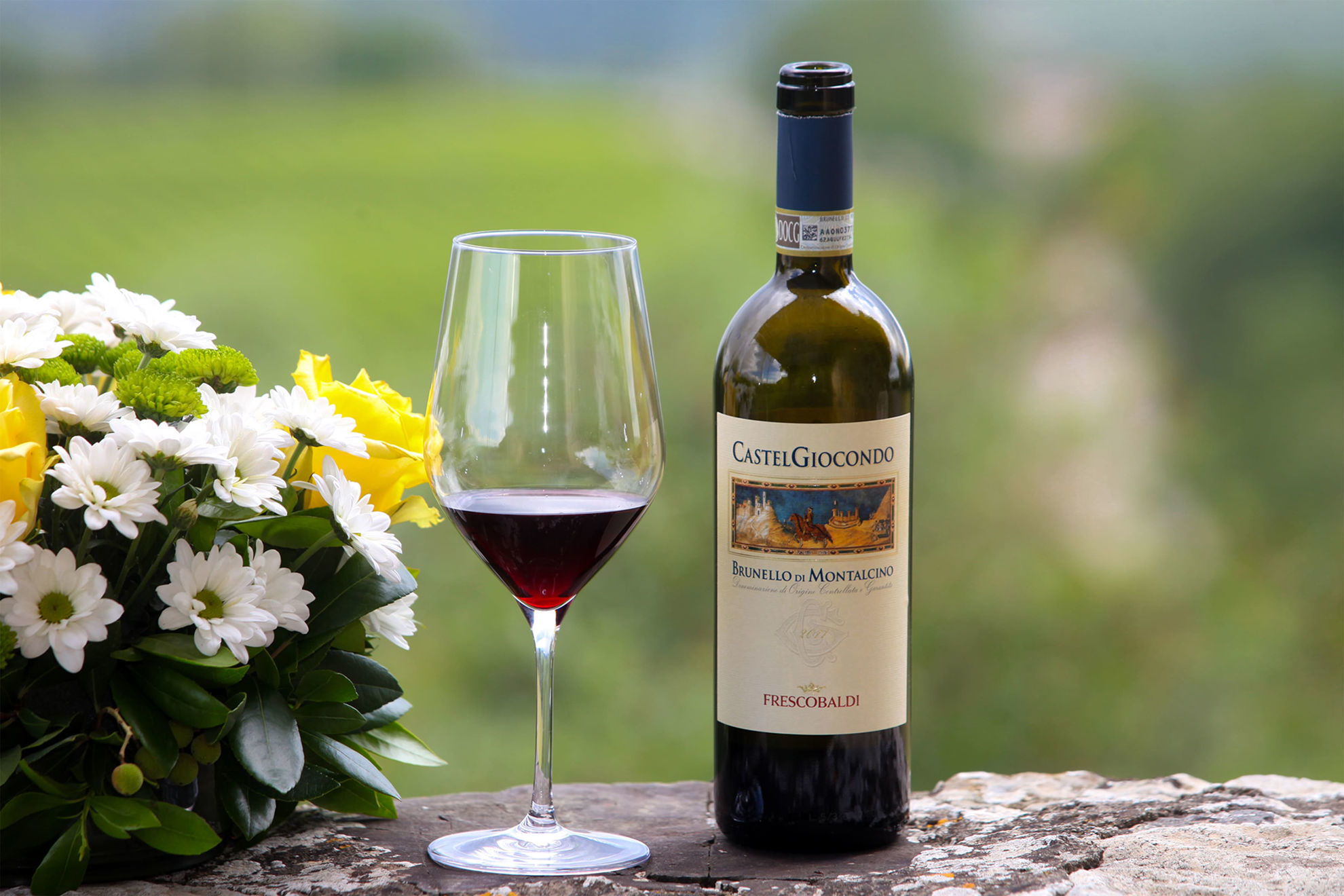 Here are two excellent recipes to pair with Brunello di Montalcino:
Wild boar scottiglia (stew)
A little history: The original scottiglia, rumoured to be dating back to the Middle Ages, was based on chicken and rabbit but, in the last forty years, wild boar has moved from the Maremma towards Montalcino. Local country family cuisine has evolved, based on the food available and the people's needs, and has taken advantage of the growing number of wild boar available. One of the recipes that lent itself well to a change of ingredients was undoubtedly scottiglia. Over time, wild boar scottiglia has established itself as a winter holiday dish in many houses in Montalcino, undoubtedly because it is a good dish, but also because it pairs magnificently with Brunello.
Some curiosities: The name scottiglia indicates the original use of this recipe. During the summer, in fact, the pans full of chicken and rabbit, as soon as they were removed from the fire, were brought by the housewives to the fields together with a "filo" or loaf of bread and a flask of wine. The country folk, having no dishes at their disposal, put the meat and the sauce on the bread, eating it with their hands that often burned, in Italian scottavano. Hence the name scottiglia.
Ingredients for 6 portions
1kg of wild boar meat
1/2 cup of wine vinegar
4 garlic cloves
A sprig of rosemary and a few sage leaves
extra virgin olive oil
Chilli and a few juniper berries
½ kg peeled tomatoes with their juice
Two glasses of excellent red wine
300g of Tuscan bread
Salt
Preparation
Difficulty: easy
Time: about 3 hours
Blanch the ripe tomatoes, then peel. Cut the wild boar into pieces the size of walnuts and marinate for at least an hour in water with vinegar, rosemary, sage and garlic. Place the meat in the pan with the extra virgin olive oil, sage leaves, rosemary, juniper berries, coarsely chopped garlic peeled tomatoes cut into large wedges. Sprinkle with salt and chopped chilli.
Cook over low heat, stirring the meat often, adding wine as the sauce reduces. Cooking time is about 3 hours. Add water at the end to adjust sauce consistency. To finish, cut the crust off the Tuscan bread, toast it lightly and pour the very hot scottiglia into it so that it reaches the table the same way it did for country folk of old.
Risotto with pecorino cheese and chicken liver ragout.
Ingredients for 6 portions 
300 grams Arborio rice
1 long red onion or 3 shallots
100 grams butter
100 grammes chicken liver
1 bunch sage 
1 glass Vin Santo
1 liter vegetable stock
4 salted anchovy fillets
80 grams grated aged pecorino
Preparation
Begin by toasting the rice in a pan without adding anything; this will keep it nice and crunchy once cooked.
The rice must be toasted over low heat in order to toast evenly. To check if it is cooked, touch it with your hands: it will be ready when it feels hot. At that moment, add 2 ladles of broth, the Vin Santo, and a pinch of salt, making sure all liquid is absorbed.
Then add the livers previously washed, dried, cut into cubes, and sautéed in a pan with a knob of butter, the chopped onion, sage, and anchovy fillets, boned and with salt rinsed off. Be careful to leave the livers nice and pink inside to prevent them from drying out too much as they finish cooking together with the rice. Continue cooking the rice with the broth and, once finished, stir in the grated pecorino.
Serve in a serving dish with freshly ground pepper.
© 2020 Copyright Marchesi Frescobaldi Tax Code - VAT - registration in the Florence Business Register 01770300489, fully paid-up share capital € 14.021.067
info@frescobaldi.it
|+39 055/27141