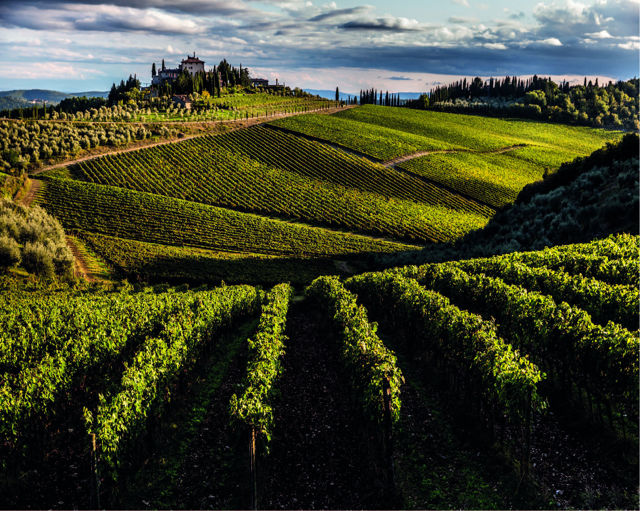 The vines of Tuscany: origins, history and ampelography
According to Assovini data the vineyard area of Tuscany is about 57,900 hectares: red grape varieties are grown on 85% of the area, while vines bearing white grapes are grown on the remaining 15%. Most of these are native vines, with Sangiovese as king (or rather, queen, since the word for grape - uva - is feminine in Italian). Along with these, international varieties, such as Bordeaux, have found fertile ground here in which to grow and thrive. In this article we'd like to take you on a walk among the vines, to learn more about the principal Tuscan grape varieties.
Grape cultivation in Tuscany: somedata
Most of the vineyard areas are located in the provinces of Siena (19,820 hectares) and Florence (14,500), followed by Grosseto (8,290) and Arezzo (5,440). 
Sangiovese dominates far and wide, being the main grape variety grown in all the important wine-making provinces. The only exception is Livorno, where Cabernet Sauvignon reigns supreme. 
After Sangiovese comes the other native variety, Trebbiano Toscano, with "only" 3 thousand hectares, which amounts to 5% of the region's area.
As for the quantity of hectares cultivated, after these two varieties there are the international ones, Cabernet Sauvignon and Merlot, with 2,500 and 2,800 hectares respectively, which together represent almost 10% of the region's vineyard area.
Other relatively famous native Tuscan grape varieties are Canaiolo, Malvasia, Vermentino and Vernaccia di San Gimignano, all comprising between 500 and 1,000 hectares.
(ISTAT DATA Agriculture Census 2010)
Tuscan wines in numbers 
In Tuscany, in 2019, 2.63 million hectolitres of wine were produced, a little more than the 2.6 million in 2018 and above the average, which is always about 2.6 million hl. According to ISTAT data:
•           Red wine production represents 87% of the total, 2.29 million hectolitres, an increase of 1% over last year and 3% above the average of the last 10 years. 
•           White wines are about 10% below the historical average production, 346 thousand hectolitres compared to 385 thousand on average (for the 2009-2018 period)
For designated types, the production of DOC wines dropped by 3% compared to 2018, even though remaining perfectly aligned with the historical average, while IGT red wines showed an interesting growth (+15% compared to the previous year) and common wines (20% above the historical average and 9% more than 2018).
Native Tuscan varieties
Sangiovese
Sangiovese is the most widely cultivated grape variety in Tuscany, as well as in Italy. 
64% of the total area designated for the cultivation of grapes in Tuscany is used for Sangiovese vines. Historically it is thought to have origins in this region as early as the Etruscan period, around the 8th century BC. The name is said to derive from the term Sangue di Giove (Blood of Jupiter), testimony of the ancient link between wine and divinity.
The vine has a medium-sized, light green, three-lobed or five-lobed leaf. The fruits that grow on the vine, on the other hand, have ovoid-shaped grapes with a black-purple skin and rich bloom, not very thick, which - once harvested - becomes an intense ruby red wine, tannic, with a pleasant fruity aftertaste.
Sangiovese is the main grape that appears in ampelography of some of the best Tuscan wines such as Chianti DOCG and Chianti Classico DOCG, where it is used at 100% or in varying percentages (with minimum ratio 7/10), of Morellino di Scansano and Pomino DOC red.
Trebbiano Toscano
A white grape variety, probably also of Etruscan origin, it is the second variety by cultivated area in Tuscany. Its grapes are spheroidal with a waxy skin and give straw-yellow wines, without strong character on the palate, medium-bodied with fresh acidity.
Trebbiano is mostly used in blends with other Tuscan white grape varieties, such as Vermentino and Malvasia Bianca.
Canaiolo
There are two varieties of this vine, white and red. While there remain very few hectares of the Canaiolo white in cultivation (often confused with the Vernaccia di San Giminiano) in all of Tuscany, and therefore it has almost disappeared, the Canaiolo red is still very widespread. 
This red grape variety was mentioned for the first time by De Crescenzi in Opus Commodorum Ruralium in 1350. Today it is used as a blend for the production of some important denominations like Maremma Toscana DOC, Toscana IGT, Montecastelli IGT and Colline Lucchesi DOC.
Malvasia Bianca
Malvasia Bianca Lunga is one of the historic wines of Tuscany and traces of it can also be found in the original Chianti definition drawn up by Bettino Ricasoli in 1870. 
Today this white variety with round grapes, is still present in the specifications of some important Tuscan denominations, such as Carmignano DOCG, Maremma Toscana DOC and Vin Santo del Chianti DOC. Its characteristics of flavour and good acidity are precisely why it is often used for the production of Vin Santo.
Vermentino 
Originally from Spain, white Vermentino was imported to Italy at the end of the fourteenth century during the domination by the Aragonese, passing through Corsica and Sardinia, where these vineyards are still under cultivation.
In Tuscany, Vermentino grapes are grown in the foothills of the Apuan Alps and in the Maremma, where the Tenuta Ammiraglia Frescobaldi estate is located. Native variety grapesare used here to produce Massovivo, a Toscano IGT wine characterized by fruity notes and hints of citrus.
The Vermentino variety also appears in the specifications of Bolgheri DOC, Montecastelli IGT and other typical Tuscan controlled denominations of origin.
Vernaccia di San Gimignano
Vernaccia di San Gimignano is a white grape variety originally from Liguria. It was brought to Tuscany around 1200 by a certain Vieri de' Bardi. It was then his descendants, Zanobi and Angiolo Bardi, who developed its cultivation and made it a highly appreciated vine, as much today as it was then.
Vernaccia di San Gimignano is included, among others, in the specifications of San Gimignano Vin Santo and Toscana IGT.
Ciliegiolo
With uncertain origins that sometimes identify the variety as a Sangiovese variant, and sometimes as synonymous with Aleatico or related to Aglianicone, Ciliegiolo is actually a variety in itself, characterized by medium-large rounded grapes, and skin with a rich bloom.
The name comes from the colour and the flavour of the grapes, which indeed recalls the cherry (Italian: ciliegia). 
This variety is mostly used in blends, with Sangiovese and other low alcohol and tart wines to add alcohol and softness.
International varieties
Among the non-native varieties grown in Tuscany, the most famous are the Bordeaux (i.e., those typically grown in Bordeaux, France), used to produce the so-called Super Tuscans, red wines now included by right among the best Tuscan wines.
Merlot
It is the most cultivated international variety in Tuscany and it blends perfectly with Cabernet Sauvignon, with which it is often mixed. 
The fruity aroma and notes of red flowers are unmistakable and the soft and fairly tannic flavour make it especially suitable for blending in many Tuscan red wines such as IGT Toscana.
This variety arrived in the Frescobaldi estates as early as 1855 when an enlightened ancestor decided to cultivate these Bordeaux vines on Castello Nipozzano properties.
Cabernet Sauvignon and Cabernet Franc
4% of the land used for vineyards in Tuscany are planted with Cabernet Sauvignon vines, one of the most renowned Cabernet varieties in the world. The spheroidal shaped grape is characterized by a sturdy blue-violet skin, and a somewhat meaty pulp.
Its vinification gives rise to wines that are intense not only in colour, but also rich in tannins and aromatic substances and it is suitable for long aging. Maturation in French oak barriques, in particular, allows the wine to express a complex and charming bouquet over time.
According to 2010 ISTAT data, 692 hectares (about 1% of the total area of Tuscan vineyards) are planted with Cabernet Franc, a native red grape variety from the Gironde, imported into Italy in 1820 by Count Manfredo di Sambuy along with Sauvignon.
100% Cabernet Franc is used in the Bolgheri region, even though more often it is blended with the Cabernet Sauvignon and Merlot to create the famous "Bordeaux blend".
A perfect of representation of these non-native varieties is found in the Maremma Toscana Cabernet DOC Terre More by Frescobaldi, which comes from Cabernet Sauvignon and Franc grapes, with small additions of Merlot and Syrah. An intense and elegant wine, it is characterized by its taste that is modern yet maintains a strong link with the territory it represents.
Syrah
Syrah, or Shiraz, is a red grape variety with controversial origins. Some believe comes from 'Iran, others from Syracuse, in Sicily, where its cultivation was lost but then returned to Italy through France.
Even the name is shrouded in mystery. Syrah, as we know it today, is a recent term. Until the mid-nineteenth century it was called Serine or Serene and was often confused with Mondeuse, a red grape variety originally grown in Savoy.
The Syrah grape produces a red wine whose colour tends toward purplish. The nose is complex, fruity and floral, with hints of red fruits and violets. On the palate it is dry, full-bodied, tannic and fairly alcoholic. It lends itself to ageing in barriques and blending with vines such as Cabernet Sauvignon and Franc, Merlot and Sangiovese.
Chardonnay 
Chardonnay is a famous white grape variety. It too comes from Burgundy and is grown practically all over the world.
Depending on the terroir, the aromatic components that Chardonnay gives to the wine change, which is why it is difficult to give a precise organoleptic definition here. In the Tenuta Castello Pomino of the Frescobaldi family the Chardonnay is grown at 700 metres above sea level, surrounded by fir and sequoia woods, which led to the creation of Benefizio Riserva, the first white wine in Italy to be fermented and aged in wood.

(Sources: Quattrocalici.it + Assovini)
© 2020 Copyright Marchesi Frescobaldi Tax Code - VAT - registration in the Florence Business Register 01770300489, fully paid-up share capital € 14.021.067
info@frescobaldi.it
|+39 055/27141