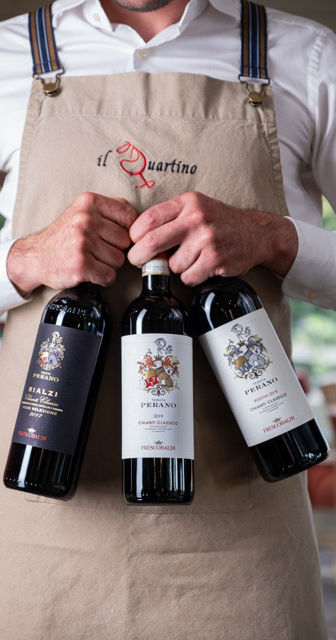 Guide to the best Tuscan red wines
Tuscany is known internationally as the wine region. Excellent wines included in the most famous oeno-gastronomic guides are brought to life and developed here. Among these we want to mention some, which could be labelled as "the best Tuscan wines":
•           Chianti and Chianti Classico
•           Maremma Toscana
•           Brunello di Montalcino
•           Morellino di Scansano
Each of these denominations contains a story, which we will narrate here.
Chianti and Chianti Classico: the supreme expression of Sangiovese
When someone says Chianti, Tuscany immediately comes to mind (not surprisingly often called Chiantishire by foreigners). In the heart of this region, in the hills of the provinces of Arezzo, Florence, Pisa, Pistoia, Prato and Siena, hectares and hectares of Sangiovese vineyards and other grapes are cultivated and used to produce this wine which today is a Denomination of Controlled and Guaranteed Origin(DOCG).
In 1967, the year in which the DOCG was introduced, the simple Chianti denomination was integrated with specific cultivations (each regulated by a different specification), which identify the relative production sub-zones:
•           Chianti Montalbano
•           Chianti Montespertoli
•           Chianti Colli Aretini
•           Chianti Colli Fiorentini
•           Chianti Colli Senesi
•           Chianti Colline Pisane
•           Chianti Rufina (LINK)
The grape varieties used are the same: Sangiovese, Canaiolo, Trebbiano, white Malvasia, Sauvignon and Merlot. The percentages of the different grapes vary from wine to wine, except that Sangiovese remains the undisputed protagonist, either 100% or in variable quantities with a minimum of 70%.
Chianti Classico, which has its own story, is an addition to these sub-zones. The Tuscan wine it represents is one of the most famous and noblest in the world and is made from grapes grown in a designated area between Siena and Florence.
The production disciplinary of Classic Chianti
The production of Chianti Classico is regulated by a strict specification that establishes the composition, with a percentage of Sangiovese grapes from 80% to 100% and to which other red grapes may be added from varieties suitable for cultivation in the Tuscany Region, not exceeding 20%. 
The production specification additionally stipulates that once vinification operations are complete, the wine can only be released for consumption beginning on 1 October of the year following the harvest. In the case of Chianti Classico Riserva it must be aged for at least 24 months, of which 3 months must be in the bottle.
The document also lists the specific organoleptic characteristics that Chianti Classico must have:
•           ruby colour, more or less intense, 
•           nose of floral notes of violets and iris combined with a typical character of red fruits (in some reserves or particular select wines, fine spiced and balsamic notes can be recognized)
•           taste is balanced and dry, flavourful with good tannins
•           minimum alcohol content 12% (12.5% for the Riserva)
These characteristics all describe our Chianti Classico DOCG Tenuta Perano. This wine, with a bright and brilliant ruby red colour, is extremely elegant and at the same time with a rich depth. An aroma of sour cherry, red and black berries and floral notes of violet, with a subtle and delicate spiciness added. Harmonious, dry, flavourful and with good tannins, it is a wine that ages with time and that pairs perfectly with first and second meat courses and medium to long maturation cheeses.
Maremma Toscana: a red with intense aromas 
Maremma Toscana DOC, based on the IG of the same name, is the third largest Controlled Designation of origin in Tuscany, after Chianti and Chianti Classico. It takes its name from the Maremma region in the province of Grosseto, a land that has always been suited to vineyards and to olive cultivation. (Source: Consorzio Vini Maremma)
The 8,750 hectares of vineyards that produce this typical Tuscan wine are found on hills and plateaus from the northeast part of the area to the slopes of Mount Amiata - a volcano that has been extinct for centuries - and southwest to Argentario and the island of Giglio. Viticulture is practiced on terraced vineyards overlooking the sea here, which contributes to an even more evocative landscape. (Source: Consorzio Vini Maremma)
The geographical area of production of Tuscan Maremma DOC is characterized by very different climatic conditions: volcanic soils, clay soils, extensive pine forests and sea air have a profound effect on the characteristics of the wines offered. (Source: Consorzio Vini Maremma)
Tuscan Maremma's shades
In addition to the terroir, the varieties cultivated contribute in a fundamental way. The Maremma Toscana is not, in fact, only Sangiovese, but combines native Tuscan varieties - Ciliegiolo, Canaiolo nero, Alicante, Pugnitello, Aleatico, Vermentino, Trebbiano, Ansonica, Malvasia, Grechetto - and international varieties such as Cabernet Sauvignon, Cabernet Franc, Merlot, Syrah, Viognier, Sauvignon, Chardonnay, Petit Verdot, which have found a perfect home here. (Source: Consorzio Vini Maremma)
Terre More 2019, for example, comes from Cabernet Sauvignon and Cabernet Franc grapes, with small additions of Merlot and Syrah. It reveals an intense, brilliant and full-bodied ruby red colour. The bouquet is elegant and complex at the same time and immediately reveals fruity notes, reminiscent of blackberry and plum. Mediterranean overtones soon also join these olfactory dynamics, with hints of juniper and myrtle. Finally, notes of coffee bean and liquorice come into play, to finish with vanilla. The first sip is splendid, with silky tannins that caress the palate. Soft and fresh. The finish is long and the aftertaste is again fruity.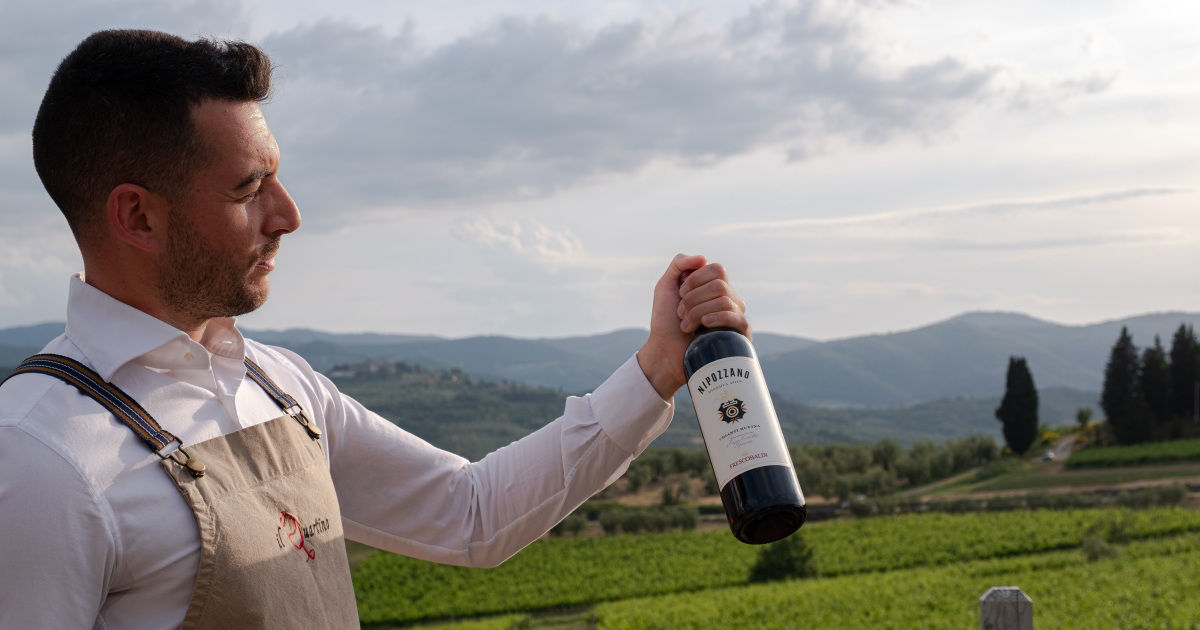 Brunello di Montalcino: a wine created almost by chance
Numerous archaeological finds dating back to the Etruscan era bear witness to the historical vocation of the territory of Montalcino that has always produced high-quality wines. (Source: Consorzio Vini Maremma)
It is therefore not surprising that one of the best wines in Tuscany was born here and is known, renowned and appreciated all over the world: Brunello di Montalcino.
In reality this red wine happened almost by chance. In 1800 some Montalcino farmers decided to experiment with the production of a new wine using a variety of Sangiovese called Brunello (or Brunellino), traditionally grown in the area. It was discovered that these grapes were able to produce wines suitable for long ageing. For at least a century, however, this wine remained a rarity destined for only a few refined connoisseurs. (Source: Consorzio Vini Maremma)
Only in the mid-twentieth century, with the creation of the DOC and (in 1980) the DOCG, and an increase in the number of wineries producing this wine, Brunello began to conquer palates around the world. It is today considered one of the cornerstones of Made in Italy products.
Brunello's Characteristics
The specification governing the production of this wine is particularly strict. Only the Sangiovese variety known as Brunello cultivated within the historic confines of the Municipality of Montalcino can be used. 
Precisely here the Tenuta CastelGiocondo is located - a stronghold rich in history and charm owned by the Frescobaldi family.
Situated about 300 metres above sea level, the estate presents the ideal terroir for the cultivation of Sangiovese and produces wines with an elegant bouquet and a complex aromatic matrix. The different vintages of Brunello CastelGiocondo are in fact characterized by intense notes and aromas, giving this wine infinite nuances.
A bit higher up, on the hills of the estate, at 450 metres above sea level, lies the small vineyard Ripe al Convento, a very special place. With its exposure to the warm afternoon sun and healthy breeze from the Mediterranean it gives us a Brunello di Montalcino Riserva DOCG that is elegant and with a strong personality.
Morellino di Scansano: the high quality of the DOCG red
Controlled Designation of Origin since 1978, Morellino di Scansano was upgraded to DOCG with the 2007 harvest. The denomination came as proper acknowledgment of the work that growers and winemakers have been doing for decades to ensure maximum quality in every single phase of processing and production. (Source: Consorzio Morellino di Scansano)
This has allowed Morellino to become one of the Italian wine élite by right, as well as to be included among the best Tuscan wines.
The historical production area for Morellino di Scansano includes the entire Municipality of Scansano and part of the Municipalities of Campagnatico, Grosseto, Magliano in Toscana, Manciano, Roccalbegna and Semproniano. Even during the Etruscan period this was a wine-producing area, as evidenced by archaeological finds unearthed in the Scansano zones and in the Albegna valley.
Morellino di Scansano is an excellent Tuscan red wine obtained from Sangiovese grapes which, according to the specification, can be blended with up to a maximum of 15% of other red grape varieties, mainly Canaiolo, Ciliegiolo, Malvasia, Colorino, Alicante and more recently also Merlot, Cabernet and Syrah.
Types of Morellino di Scansano
Depending on its "freshness", Morellino di Scansano Vintage can be marketed by the spring following the harvest, or, if it is Reserve, when it has aged for at least two years, including one in wooden barrels).
The type also changes the taste and colour: more flavour and ruby red colour with the Vintage; fruity aroma of marasca cherry, plum and red fruit with hints of spice and vanilla with the Reserve, which has a more intense red colour. (Source: Consorzio Morellino di Scansano)
Frescobaldi Morellino labels include Cala Forte, a Morellino di Scansano produced with Sangiovese grapes and small additions of Cabernet Sauvignon. It is the colour of heat, brilliant ruby red. On the nose it reveals intense fruity notes of small red and black fruits that blend perfectly with the delicate floral hints and the more spicy black pepper and juniper overtones. The gustatory examination reveals great structural balance. Delicate tannin. Persistent finish.
Super Tuscan: wines that break the rules
When talking about the best Tuscan wines we cannot fail to include the Super Tuscans, red wines produced in Tuscany that purposefully do not follow a specific production specification and consequently do not fall under any specific denomination. 
Despite this, however, these are wines of the highest quality and are recognized and appreciated internationally.
Their beginning can be indirectly traced back to Baron Bettino Ricasoli who in 1872 established what later became the formulation of Chianti Classico: 70% Sangiovese grapes and the remaining 30% a mix of Canaiolo and white Malvasia grapes. The rigidity of this discipline began to feel a bit restrictive to some winegrowers. The Marchese Incisa della Rocchetta was the first to break the rules when he began experimenting with the new ways that would give rise to the Sassicaia, the first of the so-called Super Tuscan (although at that time they were not called that).
The intuition of the Marchese was to abandon the Sangiovese and replace it with non-native grapes, such as Cabernet Sauvignon and Cabernet Franc, more suitable for cultivation in the stony ground that characterizes the high Maremma, in particular the Bolgheri area, where Sassicaia is produced.
This initiative brought in many other winemakers, who began to produce "Bordeaux-style wines", so called because the grapes used, such as Cabernet and Merlot, are originally from the Bordeaux area in France. 
But why are they called Super Tuscan? That is the name given by US wine critic Robert Parker, who was among the first to recognize the quality of these new wines.
Mormoreto Frescobaldi can also be considered a Super Tuscan. It is an IGT red that until a few years ago was labelled as a Chianti Rufina but today is actually an "independent wine". 
© 2020 Copyright Marchesi Frescobaldi Tax Code - VAT - registration in the Florence Business Register 01770300489, fully paid-up share capital € 14.021.067
info@frescobaldi.it
|+39 055/27141